You are here
Whole House Iron Water Filter
Dimensions:
60 in × 10 in × 10 in
Description
Our Iron Water Filter Will Remove Iron And Manganese From Your Water Without Chemicals
Using an Iron Water Filter to remove Ferric and Ferrous iron from your water is by far the best and most economical way of filtering your water, eliminating the red staining and rust in your toilet bowls and sinks. Water with high amounts of Iron and Manganese can also have a rotten egg odor, particularly on the hot water side of your plumbing. This system will also eliminate this smell from your water. Iron generally occurs naturally in water and does not present a problem unless it exceeds around .3 PPM. As iron levels increase, plumbing and laundry stains will occur. In some cases, some types of iron can form sludge deposits creating problems in wells, water heaters toilets, and fixtures. If untreated, this rust will eventually stain your fixtures and appliances and become permanent; it's a constant challenge to keep your fixtures looking clean. Until recently, you really didn't have many choices when purchasing a Whole House Iron Filter. 
They were expensive and required chemicals to clean the media. It was a messy job and you had to add the cleaner to the filter bed and then allow it to rinse. The stuff stunk terribly, burned your eyes and it would burn you if you got it on your skin. Major improvements in these systems have allowed homeowners to enjoy iron and rust-free water without the use of nasty chemicals or maintenance and they are actually more effective than they used to be. Newer iron filter systems regenerate much like a water softener but because of new media like "Zeoprep", there is no longer the need for monthly maintenance and the need to clean the filter with chemicals. You really just install it and forget it. What Kind Of Iron? Rust can come from multiple sources, that being bacterial, organic, and fixture. If it's bacterial, it will show as brown slime in the inside of toilet tanks (the back tank on your toilets) and will need to be treated using a chemical injection system and a separate holding tank that is needed to store and oxidize the iron. The chemical solution is usually chlorine bleach or hydrogen peroxide.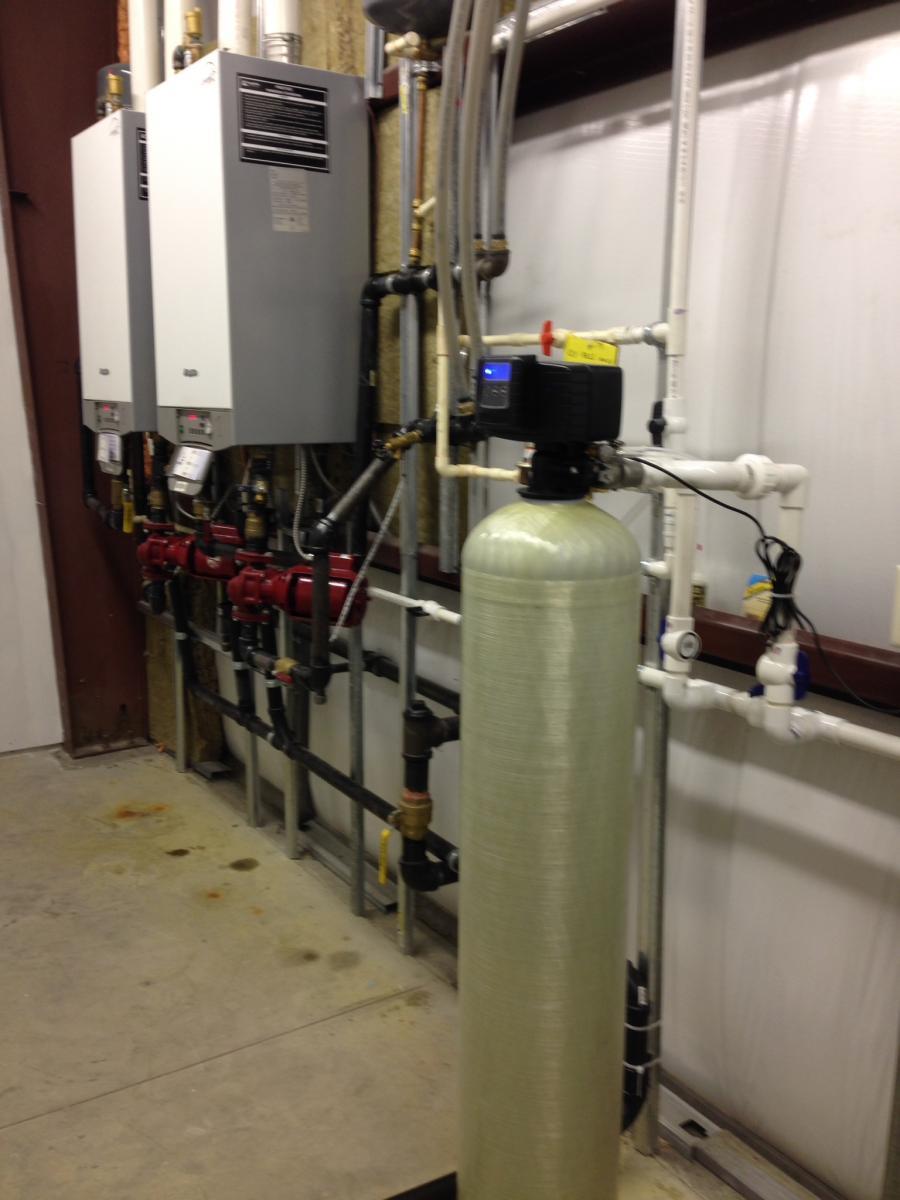 If its fixture rust, this means that you have rusty parts and components inside your toilet tank that is causing rust streaking inside your toilet bowls. Those rust streaks are usually difficult to remove but using over the counter cleaners like "The Works" will normally clean the streaks. You should replace any corroded and rusty parts inside your toilet tank to keep this from occurring. Also, it's important to remember that if you use steel scratch pads and abrasive cleaners too often, you will likely damage the porcelain surface in the bowl and this will only make the bowl harder to clean And if it's organic, this is oxidized and un-oxidized iron that is coming from minerals in your water supply. This kind of iron is also known as Ferric and Ferrous iron, or Red Water Iron and Clear Water Iron. This condition is treatable with the use of a Whole House Iron Water Filter. This filter will store the iron in a media bed, usually Filox or Zeoprep and it creates an oxygen bubble during regeneration about every three days in the middle of the night and oxidizes the stored iron and discharges it down the drain. This is a chemical-free and maintenance-free process. This particular whole house Iron Water Filter system uses a blended-media of Zeoprep, MicroZ, and Filter AG Plus for the filter media bed, along with a gravel bed, and a special head designed to oxidize stored iron in the media bed every three days at 1230 AM while you're sleeping, and usually when no water is being used. These systems are very efficient, and will not require any additional maintenance from the homeowner. Please check our BLOG Page for information related to this system.
Why Pay More Money For Similar Systems That Can Cost Hundreds Of Dollars More When You Can Get The Same Results For Much Less?
It Does The Job...
No More Rust
No More Staining
No More Iron-Tasting Water
No More Expensive And Messy Chemicals
No Pumps To Fail
No Maintenance, No Filters To Replace
How does this Iron Water Filter Work? When water enters the Iron Water Filter, it passes through a bubble of compressed air that adds oxygen to it. The water then passes through a filter bed. The filter material enhances a reaction that separates the iron from your water. The insoluble flakes of iron that result are then caught by the filter bed. The iron-free water then flows to your faucets. This iron filter replenishes itself every three days in a process that washes the stored iron out of the filter bed and down the drain while refilling the compressed air bubble. This all happens automatically during the night. Why Is It So Economical? This iron filter costs almost nothing to run. This is because the filter material will not change chemically during the process, so it is not depleted and will last indefinitely. Another key element in the whole process is the oxygen and that is freely available in the air. Finally, the replenishment process is largely driven by the water pressure in your plumbing system, so the iron filters only running cost is a few dollars a year in electricity. Finally, The Chemistry... The filter media, which is Manganese Dioxide based, catalysis a reaction that turns the ferrous iron, usually found in water in the form of ferric oxide bicarbonate which is soluble in water, into ferric oxide and ferric hydroxide which are insoluble. This is the same reaction that takes place when iron-bearing water is exposed to the air and which leads to staining of fixtures.
Many customers install our Poly Hard Water Conditioner with the Whole House Iron Water Filter. This package removes the iron and treats hard water >>>>
---
Minimum System Requirements:
Water flow rate from your water supply of at least 7 gallons per minute for proper backwash 
A minimum ph of 6.8
Maximum ferric/ferrous iron content 10 ppm
Use the information HERE to compare filters
---
Standard Features
Uses Natural Water Treatment Methods.
No Caustic Chemicals or Salt.
Provides a Homeowner With Maintenance Free System.
Maximizes Air Injection, Increasing Levels of Oxidation.
No Air Pump Required
Filter Tank Media Adjustable to Meet Your Needs.
Compare Our Iron Filter Before You Buy We have listed the most important specifications below for your research as you compare Whole House Iron Filters.
10" Diameter Fiberglass Tank
Do Not Overspend For A Chrome Tank, It looks Flashy But Who Cares?
54" Tall
Life-Time Zeoprep Media
Digital Solid State Fleck 5600 SXT Control Head
Included Metal 3/4" Bypass Control
Full Three Year Warranty On All Parts
Nine (9) Gallons Per Minute Service Flow Rate
Minimum Supply Flow Rate Seven (7) Gallons Per Minute
(Plastic discharge hose supplied locally)
Say Goodbye to Iron, Manganese, and Hydrogen Sulfide FOREVER!!!! Filter Water Direct will always strive to bring you simple solutions to your water problems using the latest GREEN technology. Our Whole House Iron Water Filter is just another example of this effort
*Free Shipping Offer Applies Only To The Continental USA States