You are here
Poly Salt Free Water Softener (3/4" Model) PSC34-Gen5 House Model
Dimensions:
5.5 in × 5.5 in × 12 in
Description
With the continued movement by municipalities to ban conventional salt-based water softeners because of the salt/chloride brine they create, many homeowners are looking toward alternative Salt-Free Hard Water Treatment Systems that are eco-friendlier, less expensive, and less costly to maintain. Even homeowners on septic fields are aware of the problematic issues arising from using salt to soften water because it adds about 65 gallons of water to your septic every time it regenerates. 
But choosing a Salt-Free Water Softener can be tricky, mostly because you might not completely understand how they work. You can choose from Magnetic, Electronic, Catalytic, and TAC (Template Assisted Crystallization) just to name a few. Filter Water Direct has spent the last several years actually using and testing all of these saltless water treatment methods for results.  We also only offer products that we know work because we use these products in our own homes. Please see the service and installation videos at the bottom of the page.
Our USA-made Salt-Free Scale Control Water Softener is actually a three-step process hard water treatment system that treats calcium carbonate by converting it into aragonite crystals and sequestering the aragonite through polyphosphate (Siliphos) dosing. The third step is a 25-micron screen that filters your water but also leaves you with the beneficial calcium as a nutritional benefit, and water that will not leave harmful crusty limescale on fixtures and appliances. 
As water enters the filter's housing, it passes through a 25-micron stainless steel filter to ensure sand or dirt is removed before the hard water treatment begins. The clean filtered water then passes through the polyphosphate capsule which holds 6 oz of food-grade, plant-based polyphosphate crystals, and then through the catalytic core, which is a true "ElectroMechanical Catalytic Core" (Hard Water Bullet) where the calcium carbonate is converted into harmless aragonite which will be sequestered by the polyphosphate dosing.
<div align="center">
<p>

</p>
</div>
Filter Water Direct has offered this technology in several different types of saltless water treatment products for quite some time, but this water softener uses a USA-made housing and has 1" or 1" NPT female threads with 2 ea 3/4" adapters. It has a handy top-mounted pressure relief valve so pressure can be released from the housing prior to servicing. We also include a mounting wall bracket and housing wrench for easy servicing.  When service is needed, simply turn off your water, press the red pressure relief valve, and unscrew the bottom of the filter to view the interior components, and this procedure is usually done about every 6-9 months.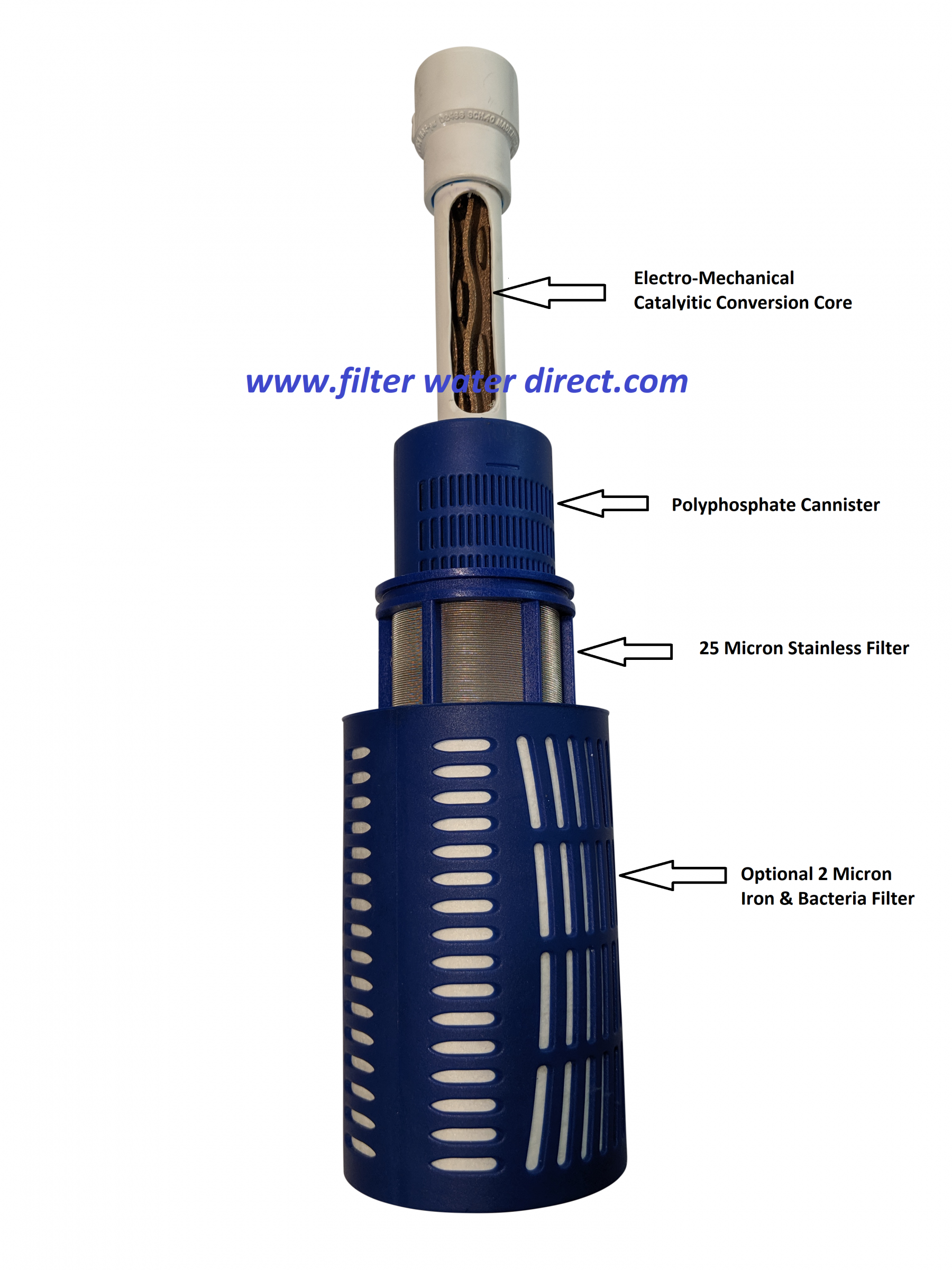 If you have been researching and comparing salt-free water softeners, here are just a few things to consider;
Citric systems will require costly cartridges and may leave a "Scum" on the water's surface, this is not considered to be unhealthy, just ugly…the treated water may also have a strange odor.
T.A.C. (Template Assisted Crystallization) media, sometimes called "Filtorsorb" is a catalytic media that will eventually wear down, in just a few years. TAC media is sold by the liter and very costly not to mention that iron plays havoc with TAC media…
Electronic water softeners (Pipe Wraps) can sometimes offer some positive results, but after the water is heated the aragonite will usually fall out of suspension causing it to act as un-treated limescale.
1/12/2019 Susan Writes:
"Our Salt-Free Hard Water Scale Control Water Softener has been installed for just a week. We noticed a difference immediately in our water quality. We have well water, which tastes great but leaves water stains on surfaces and buildup on our shower, kitchen, and bath fixtures. Immediately I noticed that the hard water staining on drain hardware was diminished. The shower glass no longer has to be scrubbed, just wiped dry. And if we miss doing it, it's easy to remove the water stains at a later time. We did not want to get a softener as we like our water taste, the water tests well and we do not like the feel of softened water, not to mention the expense and hassle of hauling and refilling salt. We are more than pleased with this product. It works as described on the website. If you don't want a salt-based softener and just want to remove or reduce the effects of hard water, this is a great product. Thank you, Brad!"
Our USA/Israel manufactured Salt-Free Scale Control Water Softener uses a solid catalytic mechanical inner core (Hard Water Bullet) that never has to be replaced. It can be easily removed, cleaned, and reinstalled. And it holds 6 oz of polyphosphate crystals housed inside a re-fillable plastic cartridge. This combination means very minimal ongoing costs associated with maintaining your hard water treatment system. No expensive proprietary parts or filters to replace. Polyphosphate is readily available and has been used in the water treatment industry for decades. Because it's "Plant-Based", it's considered to be a very safe and effective treatment for sequestrating hard water minerals including calcium carbonate.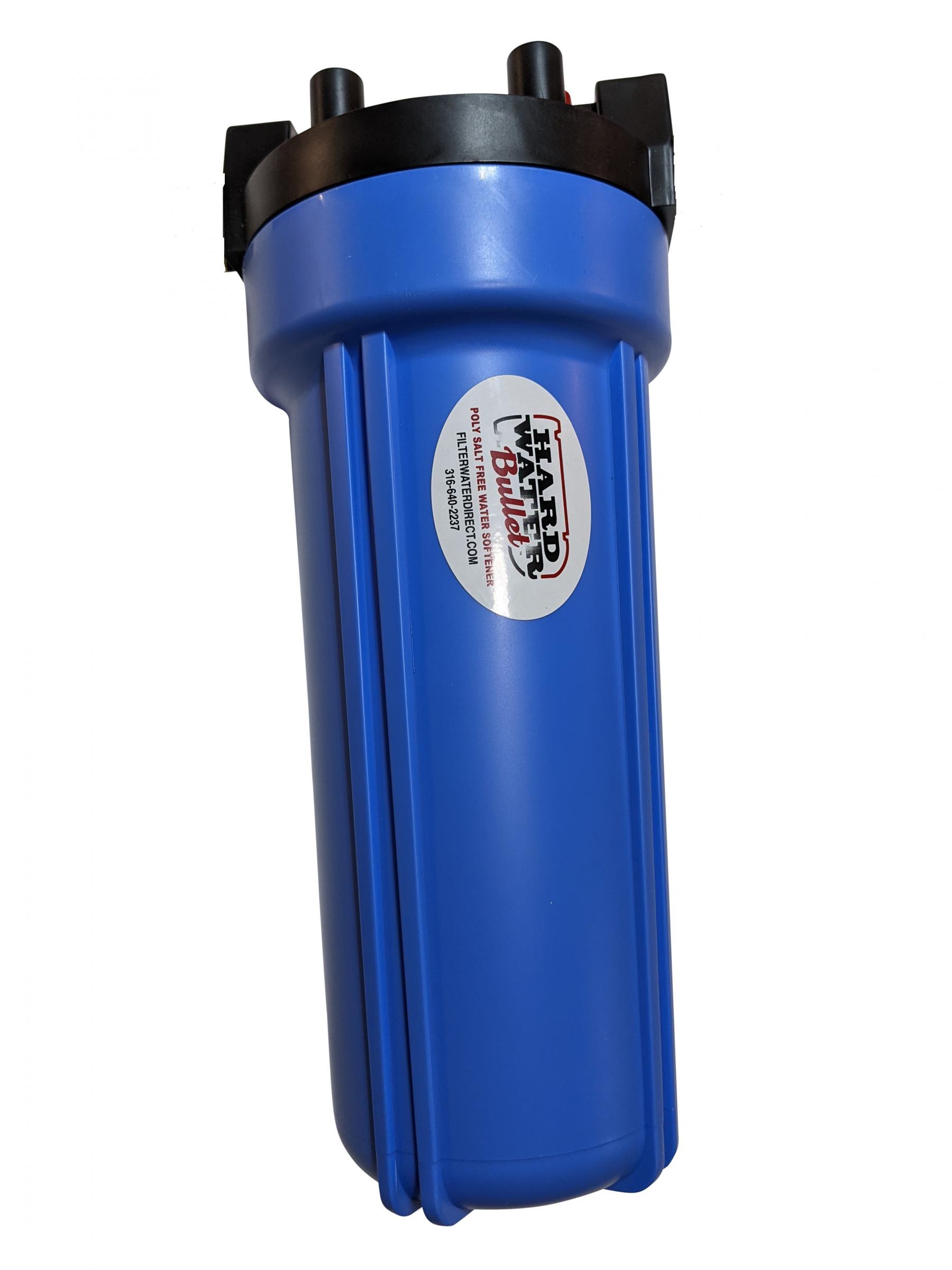 Product Benefits:
Very economical to own
No salt/potassium needed
No wasted water from regenerating/brine water
No proprietary components to repurchase
Leaves beneficial minerals in your water
Eliminates crusty limescale build-up on surfaces, fixtures, and appliances
High service flow of 30 GPM constant
Removes bacteria and iron up to 2 ppm
Specifications:
3/4" NPT female threads 
Wall Bracket Included
Includes Housing Wrench
Includes wall mounting bracket
Prefilled Polyphosphate Canister Included
Service Procedures:
Approximately every 6-9 months, remove the interior components, clean the stainless filter screen thoroughly inside and out, brush the catalytic core with a brass brush, and add polyphosphate crystals if needed.
Warranty: 90 Day guarantee on complete product, Lifetime warranty on the catalytic core (Hard Water Bullet Core)