You are here
Hard Water Softener Cartridge
Dimensions:
4 in × 4 in × 10 in
The Hard Water Softener Cartridge is ideal for "Point-Of-Use applications where soft water is needed because of excessive limescale build-up and you might not need or want a full-size ion-exchange salt-based water softener. Some applications that this hard water filter is typically used for would include:
Water Features
Any Point-Of-Use application where soft water is needed
Hot Water Dispensers
Hot Water Pressure Washers
Food Trucks
Coffee Shops
Ice Makers
This filter is only 10" tall by 4" in diameter making it very space friendly and easy to install in most applications. It is installed using ¾" fitting on both water in and water out. If you plan to use it for vehicle washing, you will need to install garden hose bibs on both ends allowing you to hook it onto your water hose.
How It Works:
If you understand or are familiar with a typical salt-based water softener (Ion Exchange), you know it uses a resin, usually called Zeolite, which has the ability to hold and attract hardness minerals using sodium or potassium charge. Conventional water softeners regenerate and recharge the resin as needed washing the sodium brine and stored hardness minerals down the drain.
This Hard Water Filter Cartridge uses the same Zeolite resin, but has a factory chloride charge and will usually last several weeks depending on water consumption. After the charge is depleted, simply remove the cartridge and allow it to soak overnight in a bucket of salt brine water. One major benefit of using this Hard Water Softener Cartridge is that you can reuse the cartridge for several years, eliminating ongoing costs.
You can purchase a spare Pre-Charged Cartridge HERE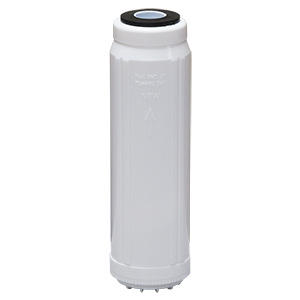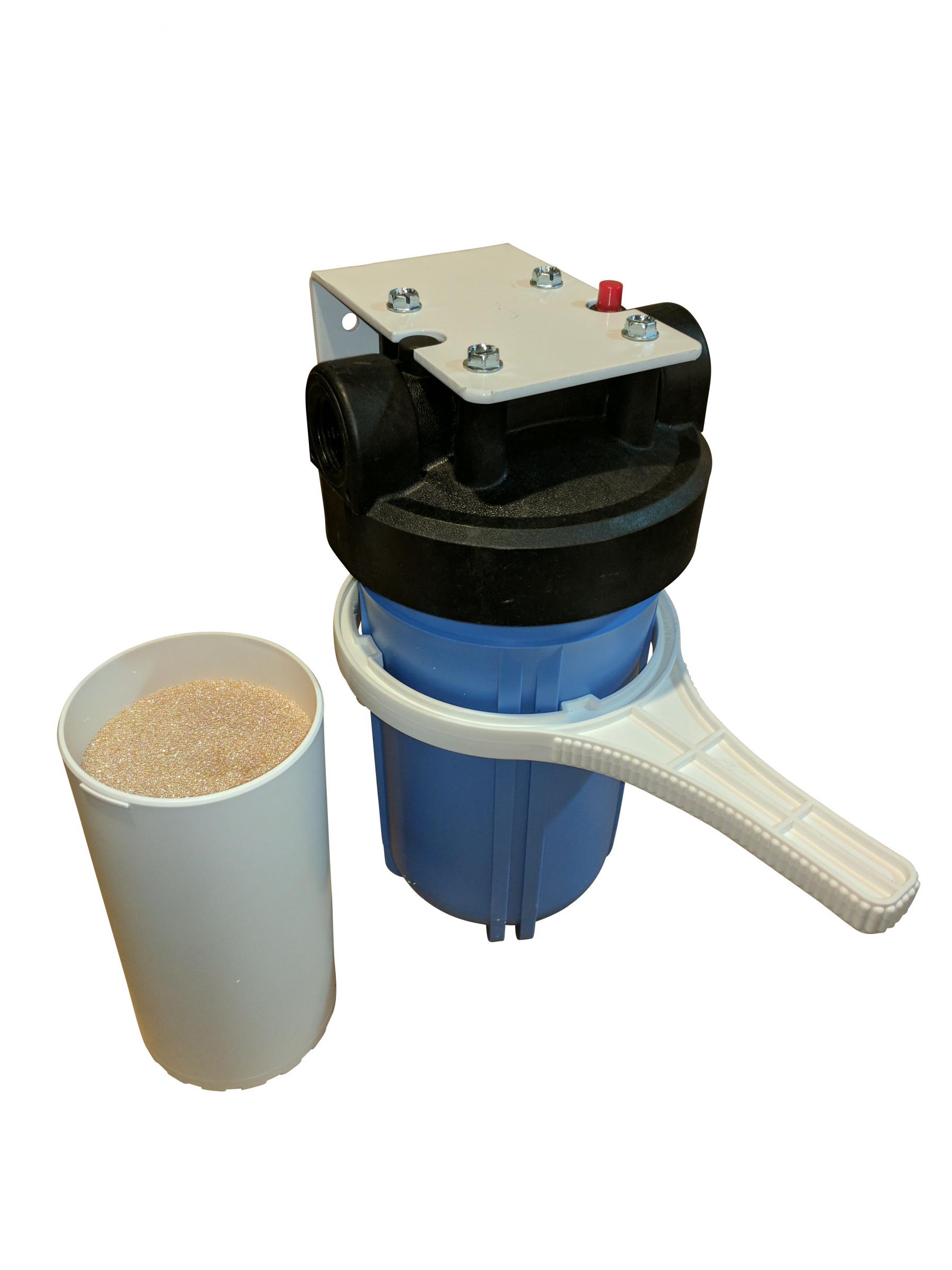 Specifications:
10" Tall
4" Diameter
3/4" female threads
Pressure relief button
Includes housing wrench
Wall bracket (As Shown) is available separately
Inexpensive To Maintain
Typically, in Point-Of-Use applications, water is not used continually like it is in a household or residential application so the cartridge will last several months making this filter very economical to maintain. Another big benefit is you will not be wasting water, or purchasing salt but you get the benefit of having real soft water available. Our Hard Water Softener Cartridge can be a great solution to maintaining your expensive water dispensers and appliances.
Please be aware that the housing color may vary