Limescale Filter Natural Water Softener Alternative
Limescale Filter Natural Water Softener Alternative
Dimensions:
5 in × 5 in × 8 in
Have you ever wished that you could have silky water without having to use a conventional ion exchange salt based water softener? Well we have good news, now you can! Our Limescale Filter is a great water softener alternative and you will not need to buy or carry heavy bags of salt anymore. Our PSC34 is a smaller version of our popular Poly Scale Hard Water Conditioner, and it has the same but smaller components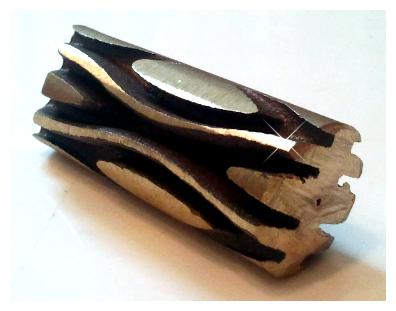 including our electro-mechanical catalytic hard water bullet, 50 micron stainless filter and 6 oz of food grade polyphosphate crystals. 
Interest in water softener alternative products have increased greatly in the last few years and you can find many different types that all claim to perform wonders. We have tested dozens of these products and only offer what we absolutely know show real results. Catalytic water conditioners have been around for many years, and several manufactures use this technology in products they manufacture.  Polyphosphates have been used in a wide range of water treatment mostly for municipality's and industrial applications for decades. But for the first time (as far as we know) you can get the best of both of these methods in one compact hard water conditioner.
Our Limescale filter uses both of these well known treatment methods and adds a lifetime stainless filter giving you great tasting water that will not allow lime scale build-up on your glass surfaces and expensive fixtures.
Our Hard Water Bullet is the catalytic core inside the filters water stream. As hard water enters the filters housing, it travels through the channels in the core where the un-treated calcium will be converted into harmless aragonite. Aragonite is a soft form of calcium that will not create hard water scaling. This method by itself is very popular if you just need to stop the scaling, particularly in hot water. But with the addition of adding food grade polyphosphates to encapsulate and sequester the aragonite will ensure that your water spots are gone.
The animiated graphic below shows how un-treated calcium in changed into harmless aragonite as it moves through the hard water bullet core
This filter is very compact and comes with a wall bracket and filter wrench to make servicing easy. Every 6-12 months simply unscrew the filter housing bottom and you can easily remove the bullet core for cleaning, clean the stainless steel filter screen and add polyphosphate is needed. You can order extra packets of food grade poly-phosphate HERE.  
Specifications:
Maximum pressure 145 PSI
Flow rate 10 GPM
Filtration surface area 340 cm
Filter height 7.5"
Filter width 5"
Built in pressure relief valve
5-1/4"" between water in, and water out ports
Filter housing diameter 16.5"
Max. Working temperature 140 degrees
Filter weight (including 6 oz polyphosphate crystals) 4 lbs
Inlet/Outlet diameter 3/4" female threads
Includes 6 oz of Poly-phosphate and 2ea male threaded installation nipples