Crystal Poly Salt Free Hard Water Softener Conditioner
Crystal Poly Salt Free Hard Water Softener Conditioner
Dimensions:
4 in × 4 in × 10 in
Salt-Free, Catalytic hard water treatment is the process of using a catalyst to treat hard water minerals breaking them down into softer aragonite crystals. Aragonite is a much softer form of calcium carbonate which makes it easier to maintain smooth surfaces such as glass and solid surface counters. This particular treatment method uses a 3/8" Electro-Mechanical Catalytic Core (Hard Water Bullet) that has channels cast into it causing a turbulent effect as un-treated hard water passes through it.
As the water moves through the core, electrons are naturally added to the water causing the calcium carbonate to revert into aragonite. Polyphosphate dosing is the next step as water travels through a 6 oz polyphosphate cannister mounted within the filter. The graphic below shows how catalytic treatment effect untreated calcium carbonate
Our PSC1-5 Crystal Poly Salt-Free Hard Water Softener Conditioner offers true catalytic salt-free water treatment with very little annual maintenance or cost. The polyphosphate cartridge can be purchased complete, or it is re-fillable, and you can use any quality brand of food-grade polyphosphate.
Salt-based water softeners not only add chloride to your water but will waste about 60 gallons of water when they regenerate. They also need salt or potassium pellets because these systems are actually "Ion Exchange" meaning they will remove the essential minerals from your water and leave you with no calcium, and chloride in your water, (terrible for septic systems).
This hard water treatment method is very effective for hardness up to 22 grains per gallon and ideal for both city municipal and well water. An optional 25-micron stainless steel filter screen and a 2-micron bacteria and iron filter are also available.
Filter Water Direct specializes in salt-free and chemical-free hard water treatment methods and products ranging from whole house applications, RV and point-of-use applications.
Our clear housing makes it easy to see the interior components so you will know when its time to service your salt-free water softener, and the filter has a built-in pressure relief located at the top of the housing to allow you to relieve the pressure off of the filter before you unscrew the housing bottom.
This filter comes standard with a wall mounting bracket and housing wrench and full charge of polyphosphate.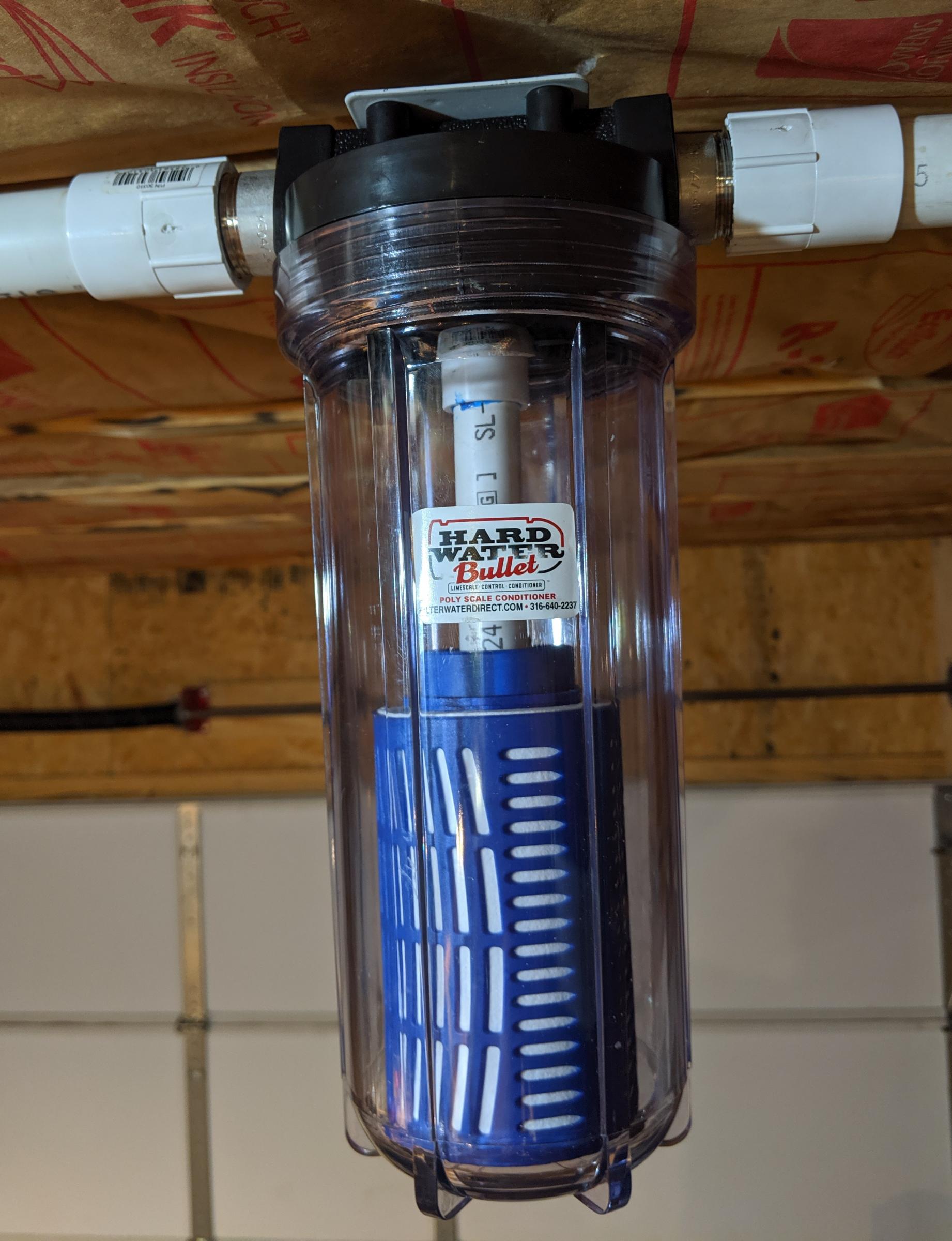 Standard Features:
Lifetime Catalytic Electro-Mechanical Core
Assembled in Arkansas (USA)
No wasted water
No salt
No electricity needed
Very compact space-saving design
Durable clear housing allows you to easily view the interior components
Included housing wrench and wall bracket
6 oz pre-filled polyphosphate cannister
1" NPT female connections
30 gallons per minute rated
Optional 25-micron prefilter
Optional bacteria/Iron filter (15000 gallons rated)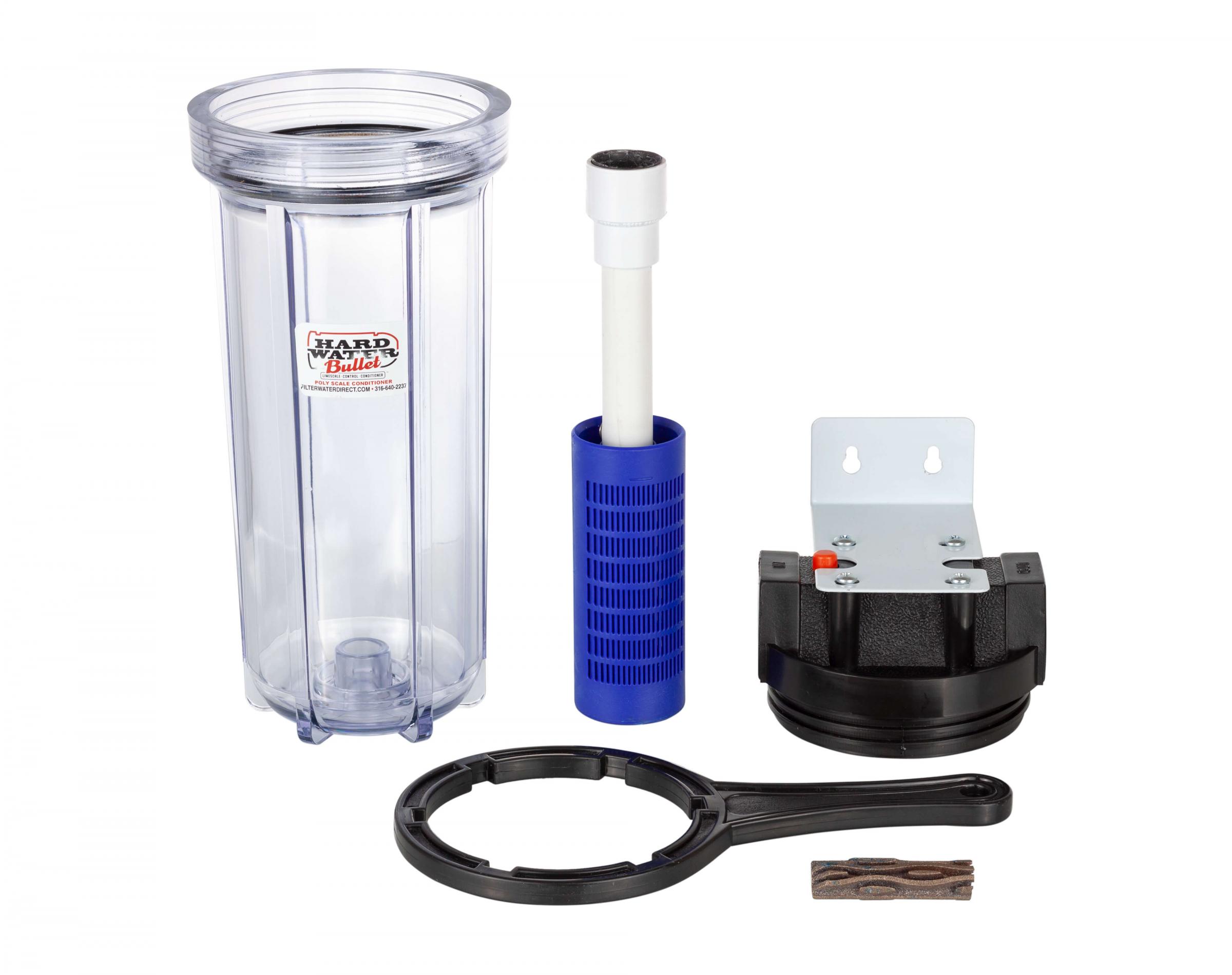 Installation:
It's advisable to use a good quality Teflon tape and thread compound on all threads
Mount the filter housing vertical
The 1" fittings can be bushed down to ¾", use good quality bushings
Consider installing a shut-off on both sides of the filter which will minimize the water leaking from pipes when you service the filter
Service:
After the first 6 months, remove the housing bottom and interior components and clean the inside of the housing with mild detergent. Never use abrasive cleaners as this will scratch the clear plastic housing
Remove the Hard Water Bullet catalytic core and allow it to soak in cleaning vinegar for about 2 hours
Replace the polyphosphate cartridge (Or disassemble yours and discard any unused crystals and replace with new)
If you use the 25-micron stainless screen, use a toothbrush and vinegar to clean thoroughly
If you use the optional 2-micron bacteria/Iron prefilter, remove it and replace with new
The average household will get about 10 months between service intervals.
Order replacement parts here:
Polyphosphate Cannister including crystals Complete
25 Micron Stainless Steel Screen